Wearing Silver and Gold Masonic Skull Rings
Freemasonry has symbolism in its core and even though some symbols seem to have a religious tone, there are fraternity which are renowned for their inclusivity. Masonic skull and crossbones rings are popular in a long time ago.
Historically these rings have been popular in warriors that wear them during battle. This denotes strength as well as a danger; it is one of the main reasons why men don't hesitate to accessorize them with such type of jewelry. These jewelry are even worn by sportsmen like riders and bikers. Skull rings denote victory and are one of the many pieces of jewelry available in our catalog – MasonArtStore. The rings with skull and bones were popular with people who followed gothic culture. They have become very common these days and are worn by various renowned personalities and celebrities.
Skull and Crossbones rings are made of precious metals: Silver and Gold
If we discuss the material from which the rings are made, it can be seen that they are mostly made of stainless steel material. It is mostly preferred in teenagers who love to follow this trend without having to pay a lot for it. This population chooses a cheap material like copper or steel. Rings that are made of these materials are not available in our online store. In MasonArtStore you will find only Silver and Gold Skull rings. MasonArtStore is a place where you will find high-quality Skull rings made of a precious material.
It is good to know: Each one of the Skull rings can be personalized!
Ring designs can vary as you may have a skull carved with gemstone or you may have small gemstones embedded around the skull. People who want their rings to look more exotic, having red or green gemstones in place of their eyes is a popular idea. List of material doesn't end here. Skull rings for men have got very popular and designers are producing them in even more exotic designs.
You can even get customized rings with your initials engraved on rings made from different material. These customized rings will even give you the choice of selecting the gemstone whether you want it to be natural or synthetic or weight can be increased or reduced as per your choice. Shape, colors and details on the ring can be customized. The finish of the ring can be customized as per your choice and can be chosen from rose gold plated, yellow gold plated or matte or premium polished.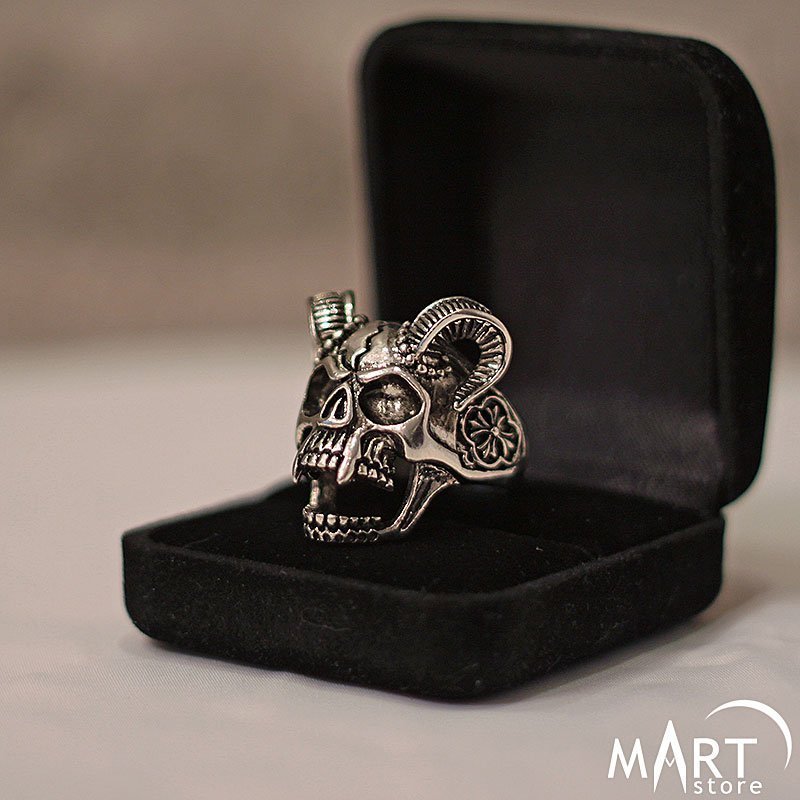 It is good to know: Each and every step of ring customization will be discussed with you. Photos of the model, ring and crafting step will be sent to you. The price of the ring will include crafting process of the custom-designed ring, its luxury storage box and warranty to get the plating of the ring back. The certificate (warranty ) is given to you if you want to buy rhodium, gold plated or ring made with antique oxidized silver.